Vessels designed for unique mission requirements
The military requires a distinctive set of vessels that do not fall within the boundaries of SAFE Boats' standard line. SAFE understands the unique nature of military operations and offers various options and configurations to the exacting requirements of our military customers. SAFE's riverine platforms are well known for their survivability and shallow draft capabilities, all while maintaining excellent maneuverability in littoral and shallow water environments. SAFE Boats has developed specialized option packages to meet the requirements of riverine and offshore mission requirements for each customer. Explore some of the available options below.

Click on the photo below to explore the platform that is well-suited for military applications.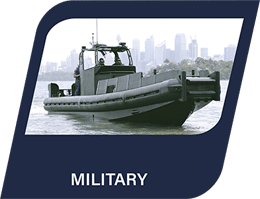 Below is a list of common options suited to Military applications. Click on the text to see an example of each.
Let's get started
Whether you're ready to order or need more information, we're here to help. Contact SAFE
GrantsHelp or General Services Administration (GSA).